Cleanroom & Laboratory Partitions
Our "Montage Monobloc" partitioning system has been widely used and specified for almost 30 years on many installations throughout the UK and Europe. Prestigious companies such as Sony, Proctor & Gamble, Smith Kline Beecham, Perrigo, Royal Brompton Hospital and many companies within the aerospace industry including British Aerospace, have all benefited from having our partitioning systems installed at their manufacturing plants throughout the last 25 years.
The smooth wipe clean finish on our panels allow the partitioning, doors and windows to achieve the very highest ISO classification standards within the sector when used in combination with the correct air handling equipment. As part of the cleanroom installation we also manufacture transfer hatches, step over boxes, laboratory benching and a range of cleanroom cupboards and work stations all of which complement the installation.
Typical sectors in which this type of partitioning is commonly used are:
Research laboratories, advanced engineering, pharmaceutical, electronic component assembly, food hygiene, aerospace industry, blister packaging areas, hospitals, biomedical and the cosmetic manufacturing industry all where the possibility of contamination has to be controlled.
Our cleanroom panel is available in various finishes all of which achieve the required standards including a high pressure laminate facing, an Impregnated melamine facing and a pure PVC vinyl wall covering, all three surfaces are non- porous and wipe clean, enabling all panels to achieve the required standard.
Airborne Particulate Cleanliness Class Comparison





























Thermal Resistance:

Typical values are U=0.7m2/deg C. or 0.4 btu per sq.ft HR/deg F. Insertion of Rockwool within the panel would improve resistance to approximately U=0.04m2/deg C. or 0.2btu per sq.ft HR/deg F.
Fire Resistance:

The system without altering the product appearance can be upgraded to achieve the half hour rating approval specified in the latest part of B.S.476
---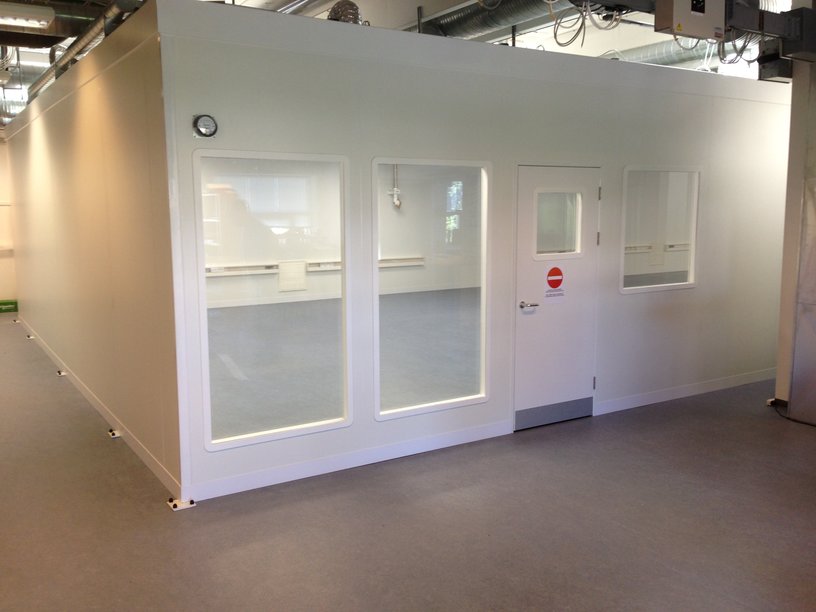 ---
We mostly supply Cambridge, Essex & London, however we can also service throughout the UK & Ireland.
Please contact us to discuss what we can design, manufacture or install for you.
Tel. 01440 - 704777
Fax. 01440 - 704999
Email. sales@docklandssystems.com